Tue 10 May 2011
IDSM – Industrial Minerals is bouncing today after seemingly finding support after a strong downward move. The stock has moved up 25% in today's trading on double the daily average volume going into the last hour before the closing bell. IDSM reached support in the .04 area and has rebounded nicely in what may be an attempt to reach the recent highs of Feb. and March. The 52 week high is .10 with average three month daily trading volume of 475,319 shares. No real news as been released from the company other than normal filing requirements. Today's action is probably only a bounce play s the result of smart traders waiting for established support to be reached before taking positions after the latest pull back from the highs.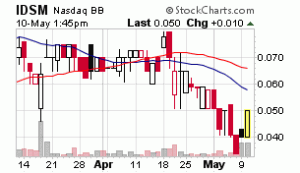 No Responses to " IDSM – Industrial Minerals "
Sorry, comments for this entry are closed at this time.