Fri 29 Apr 2011
BESE – Beeston Enterprises has put together a strong three day upward move and continues to hold it's gains into the close for the week. Opening Wednesday around .o1, BESE sustained some initial selling pressure before closing the day up marginally. Thursday's candlestick shows traders spotted the stock on their market scans adding more buying pressure throughout yesterday's session with very little selling pressure. Today, strong selling pressure began early as shown by the long shadow before buyers pushed the stock up, gaining momentum as the day went on printing a intraday high of .028 before bulling back slightly.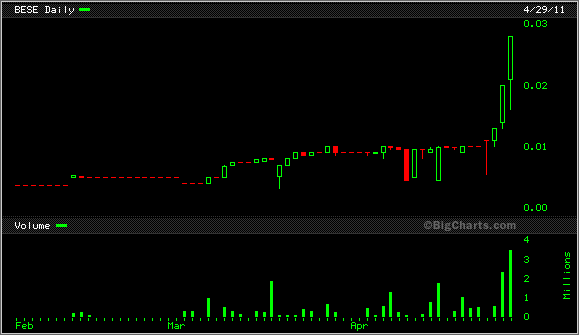 Going into the last hour of trading BESE had posted a 26% gain and a 150% gain on the week. Other than financials being released by the company on April 19, no other significant news has been released in quite some time. BESE has a 52 week high of .05 and traded sub-penny for most of the year in a sideways pattern. The three month average daily trading volume is 115,508 with over 3.4 million shares traded today. A good sign for BESE is no selling pressure going into the close as is normal before the weekend.  The stock may pullback and consolidate the gains for a few days before moving higher next week. Traders should keep BESE on their watch list for continuation of this upward move. The stock closed at the high of the day, .028, up 40%.
No Responses to " BESE – Beeston Enterprises "
Sorry, comments for this entry are closed at this time.