Thu 28 Apr 2011
HEB- Biopharma has continued to move upwards for the second day as penny stock traders bring on  buying pressure. The move up started yesterday when the stock opened around .47 and closed yesterday at  .51. Opening today's trading at .50, the stock reached a intraday high of .57 and is currently trading at .54 with less than an hour going into the close. Volume has been way above the three month average of 261,833 with today's volume topping almost 1.9 million shares traded. As can be seen on the chart below very little selling pressure has been hitting the stock as HEB continues to gain momentum.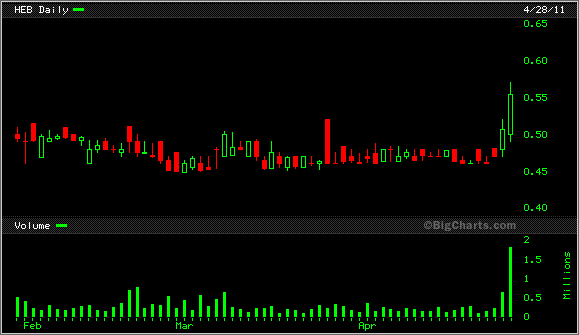 Hemispherx Biopharma is pharmaceutical company specializing in treating seriously debilitating disorders. HEB has a 52 week high of .82 and a .52 week low of .44, trading sideways since late last summer. Whatever the case, HEB should be on trader's watch list for for a potential extension of the upward move.
No Responses to " HEB – Hemispherx Biopharma, Inc "
Sorry, comments for this entry are closed at this time.