Fri 29 Apr 2011
FLPC – First Liberty Power Corp is making a powerful move up today bouncing off the recent 52 week low reached back in early April. FLPC did release news early in the trading session announcing increased investor interest in the lithium sector which may be the reason for today's exceptional upward surge. The stock opened at .22 after a slight upward move yesterday which started out strong but met strong selling pressure going into yesterday's close as can be see on Thursday's candlestick. However, the selling opposition was not enough to thwart penny stock traders today which smelled a momentum play in the making.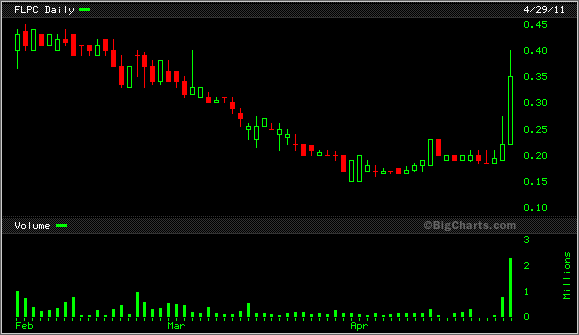 After this morning's opening at .22, FLPC built up momentum and reached a intraday high of .40 before some profit taking took place pushing the stock back to the mid .30's going into the last hour of trading.  FLPC has a 52 week high of 1.07 and 52 week low of .15  as stated above. The three month average daily trading volume is 254,105 with today's volume reaching above 2.3 million Friday afternoon. FLPC should be interesting to watch over the coming days if this excellent momentum trade continues to build steam.  FLPC has a 63% gain on the day so far.
No Responses to " FLPC – First Liberty Power Corp "
Sorry, comments for this entry are closed at this time.